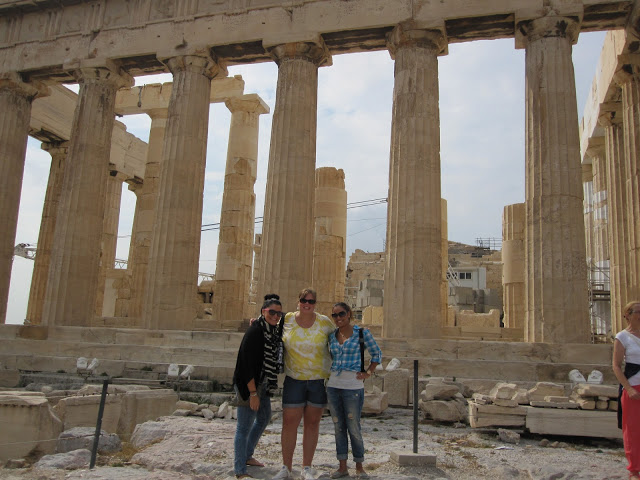 Steph, Eleni and me in front of the Parthenon
I went to Greece to visit a friend I used to work with and her best friend. They decided to follow their dreams and live in Greece. So knowing that I'll probably never learn Greek or be able to experience Greece from the inside, I asked if I could visit. In typical Greek fashion, I was welcomed with open arms.
I didn't really do my normal getting ready for a trip. I usually know what I am going to pack, know what I want to do and have a penciled out plan of what's going to happen on what days. Why didn't I do this? Because I was basically told that I would be thrown out on the street to fend for myself.
I think my friends are a little more laid back than I am.
Risking my bed and wine supply, I still bought a book for my trip. I knew the basics of Athens, but wanted to know a little more about what I was getting myself into. I bought
Let's Go: Athens
. I actually really like the Let's Go series, I bought my first one for my second trip to London. It was concise, written by Havard students, and most importantly relevant. I made my list of things I wanted to do, and went on my merry way.
I arrived Saturday afternoon, and Saturday evening Steph and Eleni were already ready for a fabulous evening of Greek food and catching up. But here is the biggest difference: Greece works on Greek time. (Okay, that was obvious, but you know what I mean.)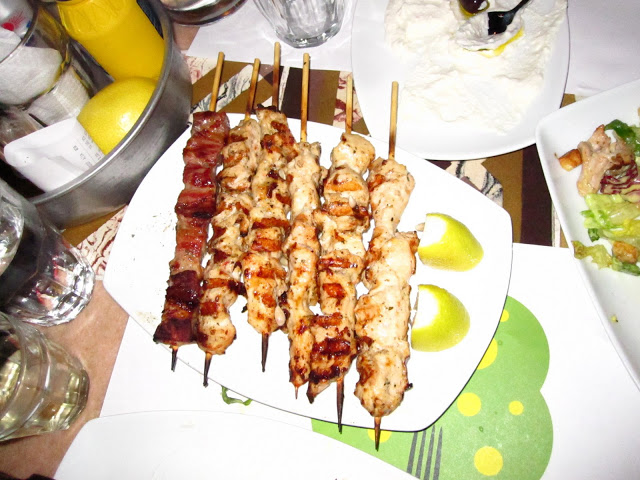 This is how we catch up over dinner. Meat on a stick and lots of wine. We threw some salad in there too.
Greece is just one big relaxing breath. Life is slower, more enjoyable, and no where near the go go go go go attitude that I find so much in the States. The food is amazing, the people I encountered outside my friends were great and time is not the focus, making sure you enjoy it is. We went for an early dinner at 9pm and did the girl thing, non-stop chatter.
Traveler beware
: when I say that we went for an
early
dinner at 9 pm, I meant it. It was not a mistyped sentence. Night life doesn't even
start
to
begin
until at least 2 am. 2 am! If you are like me, get ready to change your sleeping habits. 11pm bedtime is considered old lady.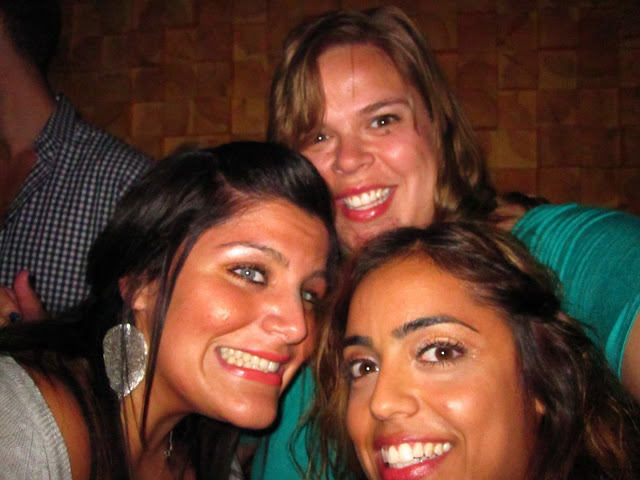 We had not been drinking 5 Euro liters of wine. Nope. Not. At. All.
The next
morning
afternoon we got up and decided to cross another ocean off my list of Oceans I have Swam In. I am a child of the ocean. I spent my childhood summers on the Oregon Coast. Playing in the sand, wading to my ankles in the salt and fresh water, and collecting rocks were common occurrences for many years. I have the salt water in my veins and I have a hard time being so far away from it.
This particular beach was different then my experiences with other beaches. It cost to get into the beach, cost for our chairs, and had a drink service. We ordered three coffees, set our towels out and headed to the water. It. Was. Amazing. The water was perfect, clear with a tint of green, and just the right temperature. Event though I was visiting in October, the heat hadn't quite broken and the weather was sunny and gorgeous.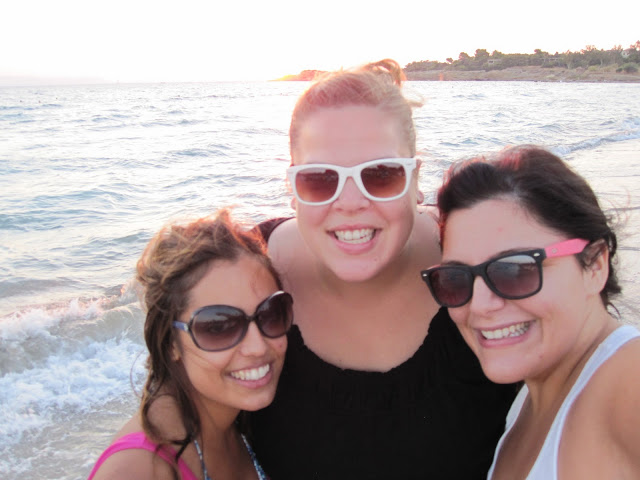 I love these girls and the beach.
I just want to reiterate. I love the beach. Any beach, any time. If it is salt water, I love it.
After a couple of days birthday celebrations, dancing, drinking, eating, a nap on the toilet seat, and one hell of a hang over, we headed to the OLD ROCKS. Yes people, this is what my tour guides told me.
Here on the left we have some old rocks.
See down there? There are some more old rocks.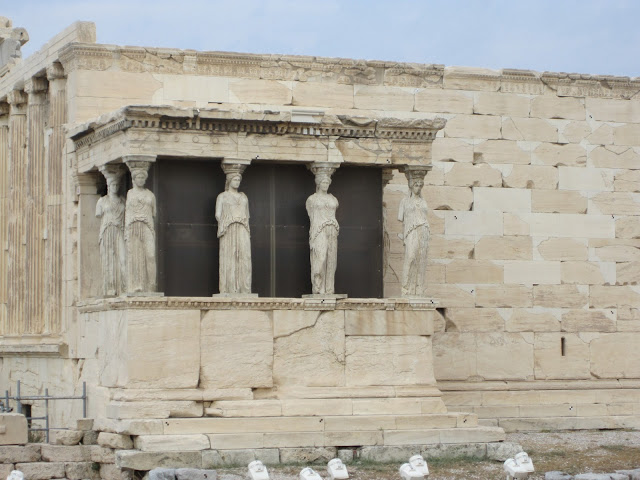 Old Rocks
See up on that hill, there is the best of the old rocks.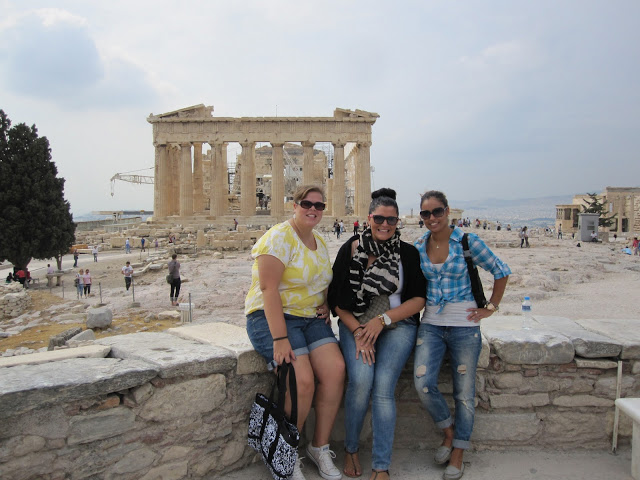 Ultimate old rocks
Athens and the area around the Parthenon are really and truly covered with old rocks. I am not trying to make people mad here, but these rocks are still being unearthed after hundreds and thousands of years. That's pretty damn cool. But, either way. They are still old rocks.
We explored Athens, hit the hot spots of
Let's Go
, and headed home with tons of pictures and some fun new touristy purchases.
Need to know about the Greek train system:
There are pick pockets
EVERYWHERE
. They try all sorts of different ways to get your wallet, your purse, anything. You need to keep your backpack in front, try not to sit down, and if you don't speak fluent Greek, do not talk. Do not stand out, do not take your hand off your handbag or wallet. Get on the train, get where you are going, and
be careful.
On one of the last days I was in Greece we went to Athens and my friends were nice enough to let me continue to feed my addiction to Museums. I had gone to the Acropolis Museum, and it was good. Not great, but good. It was exactly that. The Acropolis Museum. There was a lot of reading that had to get done and there was no way that I would ever get through the whole thing in an hour and a half. It was only three stories and it would have taken me days to get through it.
Let me also say, since this is my first travel post, I am a museum addict. I love museums. Jelly Belly museum in northern California? Been there. National Portrait Gallery in Washington D.C.? Done that. Tate Modern in London, England? Did that and rode the slide. I love any museum. The more off the wall, the more fun.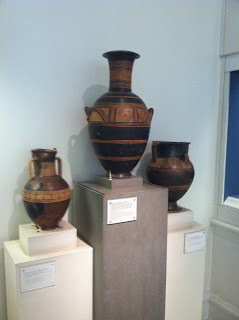 Traditional Greek Vases
In
Let's Go
they recommend the
Benakai Museum
in Athens. This museum was AWESOME. This museum was a personal collection and personal house that was all donated to the city of Athens and the Greek people. This personal collection had to have taken thousands if not millions of dollars to build. And rumor has it: there is a second museum for all the artifacts that were in storage! Whoa. Like I said, this was an awesome museum.
This museum is in chronological order of time. Starting with relics from Before Christ and ending with costumes of Greek royalty and traditional costumes. There are complete room replicas, hand stitched Greek flags, an overall complete collection of traditional Greek art, costumes, and relics.
My favorite? The Greek wreaths from the days of the Acropolis.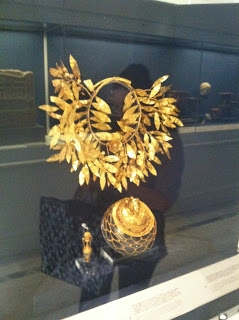 My favorite piece at Benakai
What you need to know before you go to this museum:
Greek history. Brush up on your dates, have a general understanding of major events, and an appreciation of the culture. (Or, hit up The Acropolis Museum first. Then just read up on the modern history of Greece.)
Why I enjoyed this museum:
There were great artifacts and not a lot of reading to understand the chronological order of they lay out. There is a lot of things to look at, but the lay out and rooms are well organized and concisly explained.
How long will it take?
I would scope out about 4 hours, 6 if you are a die hard reader.
Is it tough to get there?
Nope. But know that this used to be a residence. It is not a flashy new building and blends in with the rest of the area. There are some great little places to eat around there and you could make a day of it.
Bottom line?
This museum will give you a great basis for what Greek culture is like and where it came from. It is a robust collection that will not disappoint.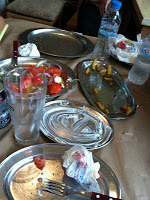 We had worked up an appetite!
If I were you, I'd get a pita and some salad after. You'll work up an appetite after the four floors of artifacts!
A day later and after pulling an all-nighter and heading back to the airport, I was a very sad little lady. It's explained more
, but this was a trip I would never forget. Between the hospitality of my friends, meeting their Greek family members, dancing, drinking, old rock seeing, and museum perusing, Greece was another fabulous trip.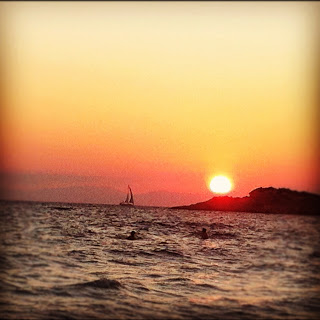 Living life one sunrise and sunset at a time in Athens, Greece.